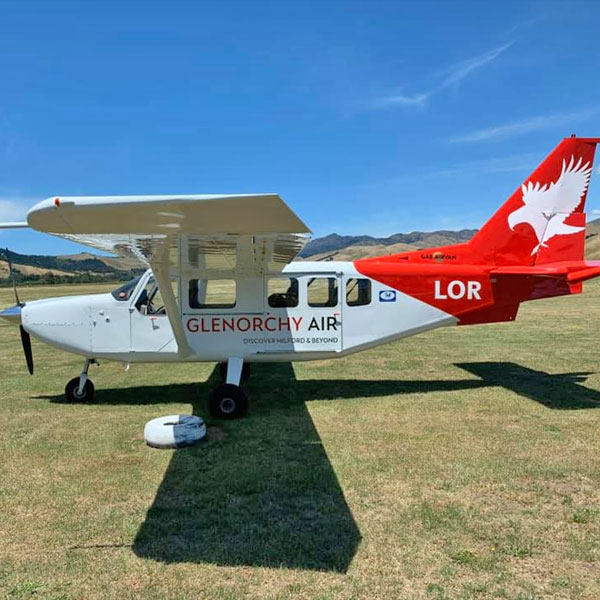 We are extremely excited to welcome back our second GippsAero GA8 Airvan back from its full rebranding, bright, ready and looking great for our busy summer season. Again, a huge thank you to Frew's Restorations in Auckland for the incredible job on ZK-LOR and ZK-JRR. ZK-LOR was the first GA8 Airvan purchased by Glenorchy Air.
Our Managing Director, James Stokes, flew her back from Ardmore Airport in Auckland to Wanaka yesterday for a final maintenance check by Performance Aviation before she'll return to our Queenstown Airport hangar to take our wonderful passengers around the stunning Southern Alps.
A few hours after departing Ardmore, James stopped in at Chateau Airfield on the edge of Tongariro National Park to see our friends at Mountain Air. They've been offering scenic flights around the area since 1988 over Mt. Tongariro, Mt. Ngauruhoe and Mt. Ruapehu.
After a nice catch up, James started the journey south and crossed the Cook Strait to land at Omaka, near Blenheim.
After a quick lunch at Omaka, James departed for his final leg of 2.5 down the South Island to Wanaka Airport, following the Southern Alps.
Now at Wanaka Airport, ZK-LOR will have a final maintenance check before returning home to Queenstown Airport. Once home, she'll be ready to start the busy summer season runs to Milford Sound, Mt. Cook and beyond.
With Christmas right around the corner, a gift card with Glenorchy Air is a fantastic way to give the gift of epic views and an unforgettable adventure for your family and friends. Check out our Gift Cards today.