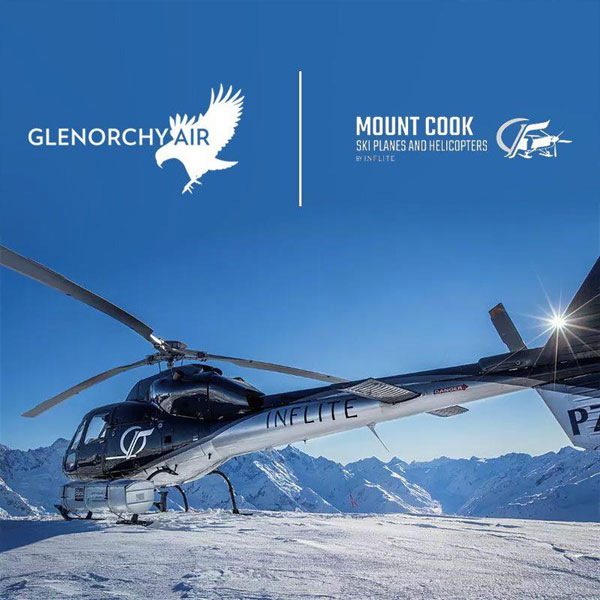 Glenorchy Air is excited to announce our new partnership with Mt. Cook Ski Planes and Helicopters, offering up an incredible range of Mt. Cook adventures departing daily with us from Queenstown.
Encounter a flying experience like no other across New Zealand's breathtakingly beautiful Southern Alps. Enjoy unparalleled views from the window seat of our fixed-wing aircraft as you fly through the most awe-inspiring landscapes. Marvel at the immense scale and spectacular grandeur of this beautiful region, including aerial views of the Tasman Glacier and summit ridge of Mt. Cook, New Zealand's largest glacier and highest mountain.Landing in the heart of Aoraki/Mt. Cook National Park, pick your adventure.
Combine our unforgettable scenic flight with the excitement and adrenaline-filled action of skiing on New Zealand's biggest glacier. Carve your way down the 1000 metre descent on this one-of-a-kind ski slope, navigating the 8 – 10 km run, exploring incredible seracs and ice caves as you make your way down not once, but TWICE.The bucket list tick you probably didn't even know existed.
Follow your flight across New Zealand's entire Southern Alps with a two hour hike through the most spectacular glacier. Teaming up with your Mt. Cook Glacier Guiding professional to be dropped off on a remote part of the glacier to explore the amazing ice formations. No two trips are ever the same – the glacier is constantly changing so there is always something new and interesting to discover. An absolute NZ MUST DO!
Embrace the opportunity to not only see The Tasman Glacier from the air, but experience the grandeur with 600 metres of glacier ice beneath your feet. It's an unforgettable experience when the aircraft shuts down its engine, leaving you in the serene silence that this jaw-dropping beauty has to offer.A once-in-a-lifetime adventure!
Whichever you choose your knowledgeable, highly skilled Glenorchy Air pilot will be waiting for you at the Aoraki/Mt. Cook aerodrome to finish off your day with interesting and informative commentary during your return flight to Queenstown.